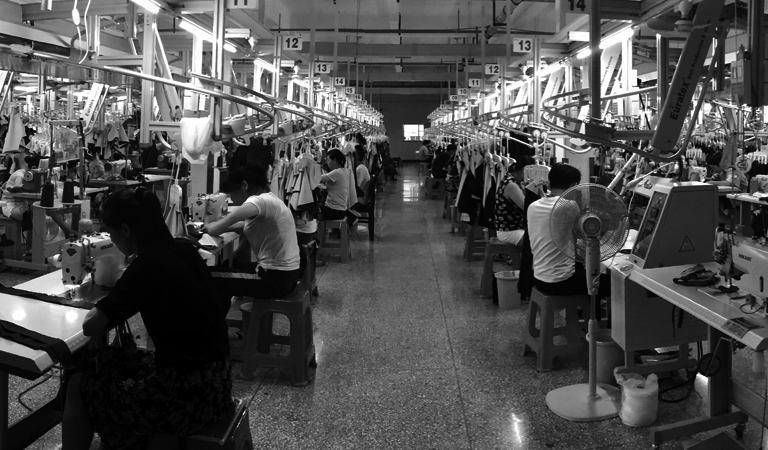 Inside Fashion Flying Group
Chen Geng, Fashion Flying Groups's founder, established the company with a 6-person team in 1999. By focusing on outdoor garments and performance workwear for 19 years, Fashion Flying Group has become one of the biggest performance outdoor wear suppliers in China.
With currently more than 180 people in its Fuzhou office and 14,500 workers in its production bases across China, Vietnam and Africa, Fashion Flying Group is truly a global company.
2018
Latest: Intelligent manufacturing – Jiangxi Fashion-Flying Factory. FFG establishes its latest innovative production base in Jiangxi province with the latest technological processes designed to deliver rapid reaction and high efficiency.
FFG has won a coveted "ISPO Award Winner 2018" for its GEO TECH DRY ADRENALINE DRY JACKET. The company also received the "High Standard & Quality Award" from METRO group.
2017
GEO products won 2 silver and 1 bronze awards at the Canton Fair.
FFG established its own fabric and technology brand 'GEO'.
2016
FFG jointly invested in production bases in both Vietnam and Ethiopia, as well as joining in another project in Rwanda. In addition, it established another modernized production base in Jiangxi, China.
'33000ft' achieved remarkable growth and was one of the "Top 10 Outdoor wear brands" on T-mall, China's biggest ecommerce platform.
2014
FFG won the golden award, the silver award and one of the three bronze awards for garment design in the Canton Fair.
FFG purchased a 4000sqm property in Hengli Financial Center, with 140 staff.
2013
FFG became the nominated manufacturer for the 2013 Commonwealth Games.
2012
The company was selected for the "Made in China" initiative.
Launched the company's own B2C ecommerce brand '33000ft' in the Chinese market.
FFG passed the ETI audit and became the nominated manufacturer for the 2012 London Olympics volunteer's uniforms.
2011
FFG merged the 'SUMITEX' technical production facility into the group which was previously owned by Taiwanese.
2010
The company experienced a growth of 75%, increasing its annual turnover under the worldwide financial crisis.
FFG won the golden award of 'zero claims rate in 2010' and 'highest quantity in single style in 2010' from OTTO Group, a Global 500 enterprises.
Its production bases passed the BSCI audit.
2009
FFG witnessed rapid growth with a 40% increase in annual turnover and received the ISO 9001 Quality system certificate.
2008
FFG witnessed rapid growth with a 40% increase in annual turnover and received the ISO 9001 Quality system certificate.
2003
FFG purchased a 400sqm property in Worldwide Plaza, with 20 staff. Also established its first production base in Fuzhou and becomes an integrated enterprise of manufacturing and trading.
1999
FFG started in a small office with 6 persons as a trading company.